GRAND GOLF RESORTS!
THE LEGENDS OF GOLF TRAIL
By Greg Wires
Two things Arnold Palmer, Jack Nicklaus and Tom Watson all accomplished in their storied careers was to win a lot of golf tournaments at the highest level, and design some of the best golf courses anywhere. Two things Larry Packard has accomplished so far in his 100-year life are to make it to that centurion milestone and to design some of the best golf courses anywhere. Now you have an opportunity to play up to nine of their combined Florida tracks in a single multi-day adventure, or spread out over three trips. And, oh – by the way – you will enjoy some of The Sunshine State's finest accommodations while taking on this variety of courses on the newly formed Legends of Golf Trail.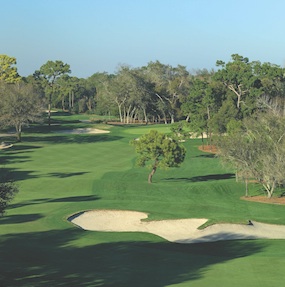 Copperhead
Packard, who is said to still enjoy a refreshing gin and tonic, began his course design work in 1946, but his most famous creation is the Copperhead course at Innisbrook Resort near Tampa. He has been quoted saying that what stands Copperhead apart is the feeling that you are more likely in the Carolinas than in Florida, with the elevations and tree lined fairways. The course has been host to PGA Tour events for many years. Innisbrook is home to three other enjoyable Packard courses and is a part of the new Legends of Golf Trail, created and run by the folks at Salamander and their collection of fine properties. Innisbrook offers deluxe guest rooms, suites, a handful of restaurants and all the amenities you want for your stay.
A mere 90 minute drive from Innisbrook to the land of Disney and all the attractions Orlando has to offer, is the largest and most comprehensive of the Legends of Golf Trail facilities with the renowned Reunion Resort. With some 330 condos, villas and homes ranging from 750 to 2200 sq. ft., comfort is a given at Reunion. It is also the site of this writer's greatest on-course accomplishment and was done so on one of The King's terrific layouts. I will spare the details, but will say that Reunion Resort, on an Arnold Palmer course, is a wonderful place to have a personal best golf experience. Let me tell you about the golf. Talk about golfing legends! Nowhere else will you find Signature designs by Palmer, Nicklaus and Watson. These are truly three uniquely set up courses, on one property, and all playable from multiple tees created to give you the best golf experience possible.
The Watson Course may be the most aesthetically pleasing of the three Reunion courses and requires a creative imagination. He built dozens of bunkers and designed clever openings to greens to demand well thought out approach shots. There is a premium on a creative short game. TheNicklaus Course is likely the most difficult of the three. Jack is no stranger to building difficult courses – sometimes you think he is simply tempting you into trying a shot you don't have. But never is there a hole that is not playable to a thinking golfer. And if you do succumb to the temptations and pull it off, you will be rewarded. As for the Palmer Course, this is what a resort course is meant to be. It can be challenging, but offers wide landing areas, approachable greens and expansive wastelands that can often be played from.
Reunion also offers the opportunity for real golf improvement as host to the Annika Acadamy, founded and run by Hall of Famer Annika Sorenstam. Annika, along with her sister Lotta and several highly qualified instructors offer programs focused on fitness, nutrition and instruction. While the academy and resort are separately run, they cooperate on setting up packages to meet any need. Extensive options are offered.
The final leg of your Legends of Golf Trail, if you are going gulf to coast, will be the phenomenalHammock Beach Resort in Palm Coast, just south of St. Augustine. Personally, I suggest you drive from Orlando to Daytona, then up A1A to this spectacular. facility.  Once there, you will find accommodations on par or better than what you often find in a destination resort. There are a lot of amenities at Hammock Beach including spa, pool, lounges, bars and restaurants. And the suites can make you want to stay in, if just for a while.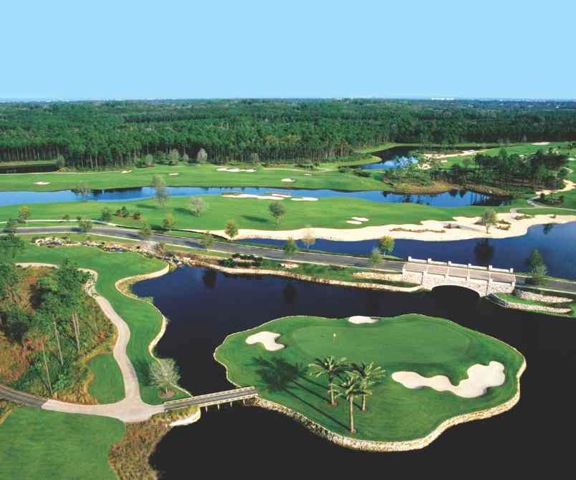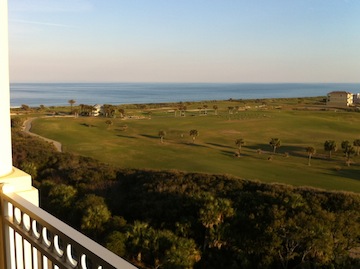 The  Conservatory               Room with a View at Hammock Beach
The golf offered here includes another Tom Watson course called The Conservatory and the Jack Nicklaus signature Ocean Course. The Ocean Course, as suggested by the name, sits above the Atlantic, which comes into view on six of the holes. You will take a shuttle to the Conservatory Course and you will not be disappointed. If you want to beat yourself up and play from 7,776 yards with a 78.2/150 rating, play the black tees. We suggest you move forward to one of the other five tees.
There are so many options available to us snowbirds when it comes to a winter golf getaway it sometimes seems difficult to choose. But if you want the sun and water of Florida, along with legendary golf courses and amenities that will meet and exceed many others, The Legends of Golf Trail of the Grand Golf Resorts of Salamander offer terrific choices. For more information, visit: grandgolfresorts.com
________________________________________________________________________________________
North Alabama: Great golf is just a short road trip away
By Joe Hall
Tee Times Publisher
There are golf meccas such as Myrtle Beach, Florida and Arizona, and there are some not-so-known destinations where the golf is equally good and in many instances, even more affordable.
North Alabama is one of those well-kept secrets. The region, stretching east to west from near the Georgia state line to the Mississippi state line and north to Tennessee, is ripe with great golf, great scenery and great accommodations.
A recent trip revealed some of the delectable golf course offerings, most of which are perfect for a weekend getaway or a week-long road trip. The golf is very good, but an equally important part of visiting north Alabama is that it won't break the bank.
East Alabama
Golf in north Alabama is easily accessible from all points north.  For golfers in Chattanooga, a trip to Gadsden to play the acclaimed Robert Trent Jones Golf Trail at Silver Lakes is a must. Featuring 27 holes – Mindbreaker, Heartbreaker and Backbreaker plus a nine-hole Short Course — Silver Lakes is a must-play stop on any golf trip
The facility, located between Anniston and Gadsden and just a short drive from the campus of Jacksonville State University, has made a fantastic recovery just two years removed from a devastating tornado that did massive damage. More than 38,000 trees were uprooted during a deadly tornado outbreak in April 2011 and the clubhouse sustained serious damage.
These days, the damage is a thing of the past. The courses were renovated and the site remains one of the most scenic on the trail, thanks to the rolling terrain.=
Elevation changes, big, undulating greens, generous fairways and a good mix of holes gives golfers of all skill levels a good challenge.
Also in Gadsden is the understated Twin Bridges Golf Course, an enjoyable par-72 layout designed by Gene bates.
Situated along the picturesque Coosa River, Twin Bridges is both challenging and fun for players of all skill levels.  It features Bermuda grass fairways, bentgrass greens, strategically placed bunkers and four sets of tees to provide a diverse playing experience.
Enhancing the experience is that Twin Bridges is enrolled in The Audubon's Silver Signature Sanctuary Program that successfully integrates natural resource conservation with economic progress and community education. Twin Bridges Golf Club is among a select few of golf courses in the world to earn this esteemed designation.
The final stop on this portion of the trip was the highly acclaimed Limestone Springs in Oneonta.
Opened in 1999, the Jerry Pate-design is one of the must-play golf courses in Alabama.  It consistently has been rated with 4.5 stars by Golf Digest and ranked among the top five public courses in the state.
The par-72 is as scenic as it is challenging, nestled throughout 225 rolling acres through the Appalachian Mountains.  From the back tees, the course stretches to nearly 7,000 yards and Pate did an excellent job routing the course.
Elevated tees provide spectacular views of the north Alabama landscape. Free-flowing streams and numerous man-made lakes pose one hazard after another and create opportunities for those risk-reward shots. . Fairways are lined with indigenous hardwoods, towering southern pines, and lush vegetation that create natural borders and boundaries.
Immaculate bentgrass greens are guarded by well-placed bunkers.
And, most importantly, you'll play on some of the most pristine bentgrass greens in Alabama, surrounded by sugar-white bunkers that provide the superb playability for which all world-class golf courses are known.
Huntsville/Morgan County
Less than an hour north of Limestone Springs, golfers can set up shot in Union Grove at the understated Cherokee Ridge Country Club, a semi-private 18-hole layout that previously hosted a web.com event.
The course is a vision that came to fruition under the guidance of Sid McDonald, a successful businessman from nearby Arab. He purchased several hundred acres of woodlands and, in conjunction with designer Sammy Dean, built a course that is considered one the best-kept secrets in the state. Dean took advantage of the native vegetation, the rolling hills, as well as the lakes and streams to design a hidden gem of a course that opened in 1992.
McDonald didn't stop at just the golf course, however. He built a spacious two-story, seven-guestroom lake house on the property to create a stay-and-play atmosphere away from the hustle and bustle of city life.
"Tree-lined, generous fairways, gentle elevation changes and ample tee markers to choose from made the course as challenging as you want, or needed, for your skill level," Tee Times publisher Joe Hall said. "A beautiful waterfall on the back nine was a pleasant surprise."
Dave Wilder said Cherokee Ridge was a "pleasant surprise," when he teed it up recently.
"I knew Brindlee Mountain had some beautiful terrain, but the course is a hidden gem," he said. "It is a beautiful layout with lots of elevation changes and it's tight enough to keep you humble."
The course isn't long by modern standards, stretching to 6.574 yards, but the elevation changes make it seem longer. The greens are bentgrass and the fairways feature Bermuda grass. The front nine plays around a 17-acre lake and the back nine plays through a forest of hardwoods and pines. Three holes have been reconfigured so that a view of an 80-foot waterfall is visible.
A little further north in Huntsville lands golfers at the Robert Trent Jones Golf Trail's Hampton Cover facility.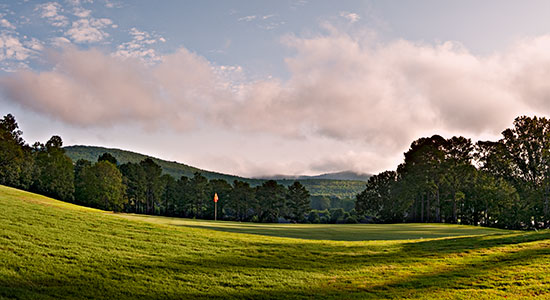 Hampton Cove is home to a pair of 18-hole courses and also an 18-hole Short Course. The Highlands course gets much of the publicity, but the recently renovated River course more than holds its own.
While the Highlands course has a links feel, the River course is completely opposite in design. It's the only Robert Trent Jones Golf Trail layout without a single bunker.  The River Course is a throwback to the way courses were built long ago. The dirt was merely pushed up to create the greens and tees, leaving all else, including massive oak trees, as is.
Considered one of the gems of the trail, the Highlands course was recently renovated to convert it back to its original design as a true Scottish links course, with rolling fairways and long, waving grasses. At the signature fifth hole, an old mule barn adds to the picturesque appeal of the setting.
Northwest Alabama
Head west along the Tennessee River and eventually the clubhouse at the Robert Trent Jones Golf Trail at the Shoals comes into view, high on a bluff overlooking the river. The 36-hole facility was among the final two sites on the world-renowned project, and like the others has earned rave reviews among golf's media.
Featuring the Schoolmaster and the Fighting Joe, the RTJ Golf Trail at the Shoals has two outstanding yet distinct designs. Fighting Joe, named in honor of General Joseph "Fighting Joe" Wheeler – the only Confederate General to attain the same rank later in the United States Army. It was the first course on the Trail to eclipse 8,000 yards, and its 'Black Tee' tournament played from the tips each year gives a unique perspective to the links-style layout.
Fighting Joe opened in 2004 and remains one of the most popular courses in north Alabama, routed through what once were cotton fields.
Schoolmaster is named for President Woodrow Wilson, who was responsible for getting Wilson Dam built and was also known as "The Schoolmaster" of politics. It opened in 2005 and has a more traditional layout with tree-lined fairways. It was carved out terrain dotted with hardwoods.
Where to stay
There is no shortage of quality accommodations when visiting any part of north Alabama. In east Alabama, the I-20 corridor near Anniston/Oxford has plenty of name-brand hotels and motels and is just a short drive from Silver Lakes. Jacksonville and Gadsden also have Hampton Inn properties.
Cherokee Ridges has the gorgeous lake house and Huntsville has a wide variety of accommodations to choose from.
In the Shoals, the Marriott Shoals Hotel and Spa is a five-star property, and there are plenty of other options from which to choose, all just a short drive from the facility.
Golf course contacts:
Robert Trent Jones,   Silver Lakes, Jason Callan:        http://www.rtjgolf.com/silverlakes/
Twin Bridges golf course Matt Ganshaw:   http://twinbridgesgolf.com/
Limestone Springs, Matt Livengood:        http://www.limestonesprings.com/limestone.asp?id=29&page=2051
Cherokee Ridge Country Club, John Harbison:   http://www.cherokeeridgegolf.com/layout9.asp?id=39&page=3024
Robert Trent Jones, Hampton Cover, Steve Mack:   http://www.rtjgolf.com/hamptoncove/
Robert Trent Jones, The Shoals, Scott Neal:   http://www.rtjgolf.com/theshoals/
Lodging contacts:
Hampton Inn, Gadsden AL, Susan Barclay:  Susan.Barclay@hilton.com
Limestone Springs Lakehouse, Michael McDaniel:  Michael.mcdaniel@honoursgolf.com
Hampton Inn & Suites, Huntsville AL, Misty Williams:   Misty.Williams@hilton.com
Marriott Shoals Hotel & Spa, Robin Stansell:  robin.stansell@marriottshoals.com
—————————————————————————————————-
Passing time easy at Pasatiempo
By Gregg Dewalt
TeeTimes Editor
In the South, English golf course architect Dr. Alister MacKenzie's name is synonymous with the famed Augusta National Golf Club, site of the annual Masters Tournament.
MacKenzie, at the request of Bobby Jones, traveled to Georgia from his California home and designed what is widely regarded as one of the top 10 courses in the world.
While Augusta National is perhaps the most recognizable of his work, MacKenzie left behind a treasure trove of other great courses, many of which are available for public play.
One of those gems, Pasatiempo in Santa Cruz, Calif., might not get the acclaim of his other masterpieces such as Cypress Point and Australia's Royal Melbourne, but like the others has stood the test of time.
If it's not already, Pasatiempo should be on every golfer's bucket list. Nestled on picturesque, undulating terrain, Pasatiempo is as spectacular as it is difficult. MacKenzie did a masterful job utilizing the northern California landscape to create a course that is as playable today as it was in 1929 when it opened.
Pasatiempo general manager Scott Hoyt sits in an office overlooking the 18th hole. He has an immediate fix for those days when things aren't going according to plan.
"If I'm in a bad mood, I turn around and laugh at the people trying to play 18," he says of the 143-yard hole in which players have to hit over a ravine to a severely sloped green.
Tom Doak recently restored Pasatiempo to its original design. Bunkers were reshaped, native grasses planted and the poa annua greens redone to their original specifications. As the course's starter points out, the yardage on the scorecard is not indicative to Pasatiempo's toughness. "It's 6,521 yards from the championship tees, but the slope is 143," he said. "It plays 6,125 yards from the middle tees but the slope is 135."
Unlike some designers who like to ease players into the round, Mackenzie did just the opposite. The opening hole is a 440-yard par 4 brute, followed by a 420-yard par 4 and an uphill 195-yard monster par 3 guarded by five bunkers. Survive those three holes and a player might make it to the back nine, where Mackenzie gives you three more challenging holes to start, including No. 11, an uphill 379-yard par 4 that plays more like 400 yards to a well-bunkered green.
Pasatiempo is a straight-forward golf course. Monterey pines line the generous fairways. That said, the terrain rarely leaves golfers with a level lie, creating a measure of uncertainty when preparing for their next shot.
Hoyt, who joined Pasatiempo two years ago, is a native of the area and always has been a fan of the course.
"The golf course sells itself," he said. "We are an internationally recognized property now, but everybody keeps saying it's this great secret. We're trapped between the Olympic Club (San Francisco) and Pebble Beach. Everybody knows Pebble Beach and Monterey."
If Pasatiempo was a well-kept secret, U.S. Opens played at the aforementioned courses in the past four years did much to open the eyes of the general public.
"When people came for those, they asked where they should go play and they all ended up here," Hoyt said. "When you are in same sentence as Augusta National and Cypress Point, as well as all the other MacKenzie courses in the world, it's quite humbling. So many people say this was his favorite course."
MacKenzie lived just off the sixth fairway, about 100 yards from the green on the tight par 5. He called the 16th hole, another spectacular par 4 that requires an uphill approach shot over a ravine to a three-tiered green, as the best two-shot hole he ever designed.
If there is one surprising aspect of Pasatiempo, it's that MacKenzie designed large, undulating greens. That goes a little against the style of the time period. And while the greens are large, they are treacherous. The old saying, "you have to keep it below the hole in the Open," most definitely applies to Pasatiempo, where nearly every pin position can be considered a "Sunday pin."
Hoyt says it doesn't matter what the pin position is each day — somebody will complain. That's a testament to the difficulty of the greens. He also points out that most of the members have improved their short games.
"They say it's either sell their membership, break a lot of clubs, quit golf or figure out what the heck to do," Hoyt said, laughing.
Quitting before playing Pasatiempo? Now, that's no laughing matter.
Reprinted from the Florence (Ala.) TimesDaily.